South Dakota State University
The Department of Chemistry and Biochemistry has 21 full-time faculty 42 PhD and 3 MS students. Available
equipment includes two Agilent HPLC instruments, two Agilent GCMS systems (one containing a robotic sampling system), a Gamry 600 potentiostat, multiple ion chromatographs and a Raman spectrophotometer.Instrumentation facilities maintained by the department include: a high-resolution mass spectrometry facility with two LCMSMS systems, pyrolysis, EI, CI or FAB sample ionization capabilities, ESI FTMS, and MALDI-TOF capabilities; high-resolution solution (400 MHz and 200 MHz) NMR spectrometers and two solid-sate NMR spectrometers (200 and 400 MHz) with variable-temperature CRAMPS probe constructed of fluorine-free materials (low 19F background); a spectroscopy lab with near-, mid- and far-IR capabilities including DRIFT and CIR, fluorescence and time-resolved fluorescence spectrometers, a UV-Vis spectrophotometer, and a variety of atomic absorption and ICP spectrometers. The Department of Electrical Engineering and Computer Science (EE&CS) has 22 faculty members, 35 MS, and 15 EE PhD students and 25 CS MS students. The department has two large cleanrooms, thin film deposition capability (ion beam assisted deposition, E-beam evaporation, thermal evaporation, sputter deposition, thermal evaporation, thermal oxidation, plasma enhanced chemical vapor deposition), thin film processing (rapid thermal processing, optical and electron beam lithography), surface profiler, steady state and lifetime fluorescence spectrometers, and nanofabrication and characterization capabilities. The Department of Sociology and Rural Studies currently has 10 faculty members, 20 PhD and 20 MA students, a computer lab with relevant quantitative and qualitative analysis software, houses the Rural Life and Census Bureau Center which provides access to relevant local and/or national demographic and census data, and sampling and surveying tools to assist research studies.
Mass Spectrometer Core Facility
New SPACT Equipment at SDSU!
Horiba Fluoromax-4 Spectrofluorometer for the analysis of fluorescent inks developed through SPACT Center collaboration.
South Dakota School of Mines and Technology
Direct Write Laboratory (DWL)
The major SPACT facility of relevance is the Direct Write Laboratory. The DWL houses state-of-the-art digital fabrication equipment. Also listed are other major pieces of supporting equipment.
Optomec Aerosol Jet Deposition System (DWL)
Dimatix Ink Jet Printer (DWL)
Sonotec, ExactaCoat Printer (DWL)
PixDro/Trident Ink Jet Printer (DWL)
HP Research Thermal Ink Jet Printer (DWL)
Foster-Freeman Forensic Trace Evidence Analysis System
MTS Nano XP Nanoindenter
TA Instruments, Q100 DSC, Q800 DMA, Q400EM TMA
Rame-Hart Contact Angle Goniometer
BET Surface Area Analyzer
Zeta Meter-surface charge analyzer
Microtrack Laser Diffraction Particle Size Analyzer
Kruss Surface Tensiometer and Viscometer
Nima, Langmuir Blodgett Film Balance
Applied Electromagnetics and Communications Lab (AECL)
The AECL is used to simulate, construct, and measure electromagnetic devices, materials and antennas.
Anechoic Chamber 0.7-67 GHz with DAMS-7000 Antenna Positioner
Agilent E8361C PNA to 67 GHz
Agilent 85071E Materials Characterization software; Workstation PC (96GB RAM, 4 NVIDIA GPU)
12 PCs with commercial simulation software (ADS, IE3D, CST MWS, MWO). LPKF C100 milling machine
LPKF Multipress S to stack and laminate boards
LPKF RS via electroplating system
Engineering and Mining Experimentation Station (EMES)
EMES is the largest campus support/multi-user facility, and contains a wide variety of characterization equipment.
SEM – Zeiss Supra40 variable pressure field-emission SEM with an Oxford AZtec EDS and EBSD; Peltier-cooled (-30C to+50C) and heating stages (+1200C)
TEM – JEOL JEM-2100 LaB6 transmission electron microscope with Oxford Inca EDS
XRD – Rigaku Ultima-Plus X-Ray Diffractometer;
MicroXCT – Xradia MicroXCT-400 high-res 3D X-ray microscope with tensile/compression stage (maximum load 500N
Bruker MultiMode 8 AFM and STM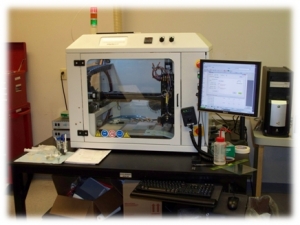 Sonotec, ExactaCoat Printer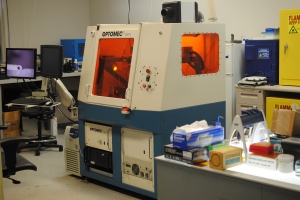 Optomec Aerosol Jet Deposition System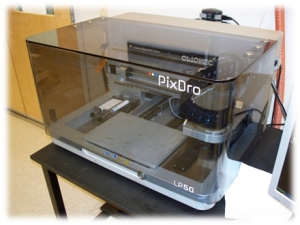 PixDro/Trident Ink Jet Printer
University of South Dakota
USD faculty integral to SPACT occupy six separate laboratories: a complete laser laboratory with UV to NIR excitation and detection capabilities (625ft2 ); two laboratories devoted to materials synthesis, one with clean-room capabilities (500 ft2); a laboratory for controlled-atmosphere work and high-temperature crystal growth (300 ft2); a microscopy laboratory (150 ft2); and a dedicated computer lab (200 ft2).  There are five dedicated fume hoods in the synthesis and crystal growth laboratories, each equipped with Schlenk lines and inert gas supplies.
Computing Facilities: USD operates a high performance computing (HPC) cluster comprising 744 processing cores and 70TB of shared network storage connected via gigabit Ethernet.
Major Research Equipment / Facilities include:
Confocal Raman Microscope with Vis, NIR excitation (Horiba, Aramis)
TEM (FEI Technai Spirit / 120 kV) and FE-SEM with EDX (Zeiss / Oxford)
400MHz NMR with High-Resolution Magic Angle Spinning (Bruker)
Particle-size, zeta-potential analyzer (Zetasizer Nano ZS)
Hyperspectral VIS-NIR microscope (Cytoviva)
Atomic Force Microscope (Pacific Nanotechology)
Single-crystal (Bruker axs – SMART APEX II) x-ray diffractometer
Powder x-ray diffractometer with thin-film capability (Rigaku Ultima IV Powder XRD)
Elemental analysis (Exeter – CE-440)
New SPACT Equipment at USD!
Zeiss Scanning Electron Micrograph (SEM) with elemental analysis capability. Used for morphology and composition analysis of nanomaterials and structures related to security applications.
Cytoviva Hyperspectral Microscope used to collected pixel-by-pixel spectral images for transmission, reflectance, or fluorescence. Used for spectral analysis of security print features or taggants.
All SPACT Campuses: Access Grid
SPACT researchers utilize the Access Grid (AG), a full-immersion, high-definition video environment for research collaboration. See AG collaboration meeting in the image below.  Through use of the AG we can easily collaborate with SPACT researchers, non-SPACT campuses or private-sector partners.