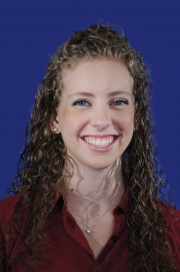 Carly (Nesson) Fountain
Bio:
---
2014 B.S. Applied and Computational Mathematics, South Dakota School of Mines and Technology
Project Info:
---
TITLE:
Encoding Multi-layered Data into QR Codes for Increased Capacity and Security


ABSTRACT:

Quick Response (QR) codes, currently used in marketing, warehouse management, product tracking, and other applications, is currently comprised of only black and white modules. The goal of this paper is to discuss the implementation of Colored QR codes in order to increase data capacity and security yet still maintain reasonably-sized codes. This objective will be completed by coloring various QR codes and using MATLAB to take advantage of the various color channels present. By layering colored QR codes, a layered code will present readers with enough information to obtain the original codes involved. This paper discusses methods for layering three base colors – Red, Green, and Blue – as well as six base colors – High Red, Low Red, High Green, Low Green, High Blue, and Low Blue.
It was found that layering colored QR codes effectively increased the data capacity three-fold and six-fold for three base colors and six base colors, respectively. The layering and un-layering process was fairly simple with the use of some basic MATLAB commands.

Project Report is not yet available.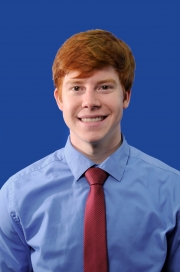 Albert Foster III
Bio:
---
2014 B.S. Applied Physics, Lock Haven University
Project Info:
---
TITLE:
Surface Enhanced Raman Scattering of Electrospun Nanofibers Embedded with Silver Nanoparticles


ABSTRACT:

Surface enhanced Raman scattering (SERS) is a fairly recent discovery that has allowed for single molecule detection. With this extremely sensitive technique, it is possible to have unprecedented security in terms of anti-counterfeit technologies along with many other applications. The challenge is to create cheap, robust, and versatile substrates with SERS capabilities. Electrospinning provides a simple and quick method for obtaining submicron polymer fibers in large quantities. By combining the electrospun fibers with silver nanoparticles, we found that this technique is a practical method in developing SERS substrates. In this study, conditions for fabricating extremely thin (less than 500 nm) and continuous nanofibers with well dispersed silver nanoparticles were optimized. The Raman signals for the optimized composite nanofibers were measured to determine the amount of enhancement using 4-MBA (mercaptobenzoic acid) as a target molecule. The polymer studied was poly (methyl methacrylate) and the solvents were dimethylformamide, chloroform, and 1.1.2.2-tetrachloroethane. It was found that using chloroform and dimethylformamide as co-solvents yielded the optimum fibers. The silver nanoparticles did have a significant magnification effect on the Raman signal when embedded into the nanofibers. A rough calculation showed that the enhancement factor was approximately 1×10+8.

Project Report is not yet available.
Jamie Kern
Bio:
---
2014 B.S. Chemistry, Concordia College
Project Info:
---
TITLE:
Synthesis of a Unique Fluorescent Material to Print onto Medications for use in the Anti-Counterfeiting of Pharmaceuticals


ABSTRACT:

Anti-counterfeiting of pharmaceuticals is a widely growing field due to the increased occurrence and sophistication of counterfeit medications. A fluorescent label that can be printed onto medications would provide a simple and efficient means by which an authentic pill may be distinguished from a counterfeit one. As a result, fluorescein inks have been used to print labels onto a variety of medications in order to combat counterfeiting. Fluorescein inks were found to be useful in printing labels onto enteric coated medications, particularly those with a yellow color. Further, it was found that inks could be mixed with the fluorescein to increase the covert nature of printing. The fluorescein-based fluorescent inks were used to print QR code labels onto medications to provide an additional level of security.

Project Report is not yet available.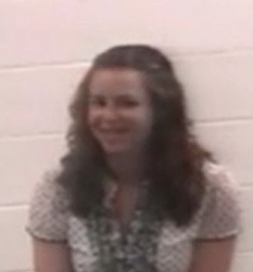 Briana Laubacker
Bio:
---
2014 B.S. Chemistry, Nazareth College
Project Info:
---
TITLE:
Synthesis of water-soluble lanthanide-doped upconversion nanoparticles for security printing applications


ABSTRACT:

Upconverting β-NaYF4: Yb, Er/Tm nanocrystals are being studied for use in security printing applications. Previous work by our group has focused on using these particles with oleate capping ligands in organic ink formulations. However, to be compatible with the ideal parameters for inkjet printing, nanocrystals dispersible in aqueous-based solvents are required. A ligand-exchange process using the hydrophilic capping agents O-phosphorylethanolamine (AEP) and poly(acrylic acid) (PAA) was performed with the β-NaYF4: Yb, Er/Tm nanocrystals. The PAA coordinated particles had better stability in both water and a 20% water, 80% ethylene glycol solvent (EG) system than the AEP coordinated particles. With optimization of the PAA ligand-exchange procedure, the PAA capped β-NaYF4: Yb, Er/Tm nanocrystals will be suitable for use in aqueous ink formulations for inkjet printing of security features.

Project Report is not yet available.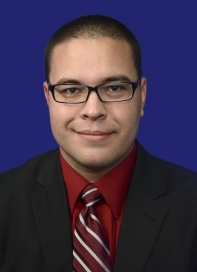 Sean Long Fox
Bio:
---
B.S. degree candidate (Metallurgical Engineering), South Dakota School of Mines and Technology
Project Info:
---
TITLE:
Lakota Art Authentication


ABSTRACT:

Many artistic objects have been miss-represented over the years. This causes a misunderstanding of importance and worth. This project seeks to authenticate these artifacts using forensic examination as well as an intellectual investigation. Of consideration are the designs used, methods of construction, and authenticity of period materials. Multispectral visual examination, X-ray fluorescence, Micro CT, Raman Spectroscopy, and Cultural Research are all the tools will be implemented for this project.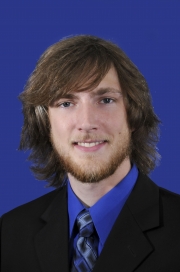 Ian Markon
Bio:
---
2014 B.S. Metallurgical Engineering, SD School of Mines and Technology
Project Info:
---
TITLE:
Counterfeit Prevention of Microelectronics through Covert Anti-Tamper Microcapsules


ABSTRACT:

The problem of microelectronics counterfeiting has been steadily growing for years, but a recent U.S. Senate hearing on the subject has resulted in a much greater push to curtail the problem. In an effort to produce a technological solution to this problem, a project was begun at the South Dakota School of Mines and Technology with the goal of encapsulating upconverting nanoparticles in breakable microcapsules to use as an anti-tamper marking on authentic microelectronics. This portion of the project focused mainly on developing techniques to successfully form microcapsules. Seven microencapsulation trial runs were attempted with the result that complete microcapsules were produced in one of the trials and broken or incomplete microcapsules in at least two other trials.

Project Report is not yet available.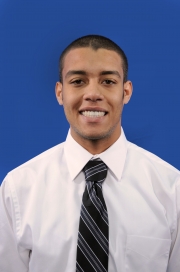 Shawn McCarther
Bio:
---
B.S. degree candidate (Metallurgical Engineering), South Dakota School of Mines and Technology
Project Info:
---
TITLE:
Printing Upconverting Nanoparticles using a Piezoelectric Inkjet Printer


ABSTRACT:

Inkjet printing is developing into more than a way to print digital documents onto paper. It is being used in innovative new ways, depositing precise amounts of various substances onto an ever-increasing number of substrates. There are many types of inkjet printers; this research involves ink formulations for piezoelectric inkjet printing. Piezoelectric inkjet printing offers the potential for exceptional print resolution. Ink formulations in this study were analyzed to meet printer requirements and printed to optimize print characteristics. The solvents need to be able to incorporate a significant weight fraction of polymer additive to print a continuous, thin film. Upconverting nanoparticles (UCNPs) were added to solution and studied to determine the plausibility of using them in security printing. To achieve effective printing, initial research focused on formulating an ink with the necessary rheological properties. This included viscosity and surface tension measurements; contact angle measurements were also taken. Solvents of ethylene glycol (EG) and water, were found to have the appropriate rheology, but did not always remain stable with a significant weight fraction of polymer additive. A solution of EG and 2-buthoxynethanole with 1 weight fraction Polyvinylpyrrolidone (PVP) was found to meet our printer requirements, as well as fully disperse UCNPs; printing is still to be done with this solution.

Project Report is not yet available.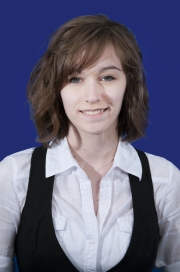 Sierra Rasmussen
Bio:
---
B.S. degree candidate (Metallurgical Engineering), Missouri Science and Technology
Project Info:
---
TITLE:
Creating Antennas by Photosintering Silver Nanoparticle Ink on Paper


ABSTRACT:

Silver nanoparticles are a rather novel material with unique optical and electronic properties. Silver nanoparticles can be mixed into an ink formulation and printed onto a substrate. When the silver particles in the ink are sintered, they can conduct a charge, allowing their use in printed electronics such as antennas. However, thermal sintering is generally a high-temperature process and can damage substrates that are sensitive to heat. The purpose of this research is to determine whether it is possible to use silver nanoparticles to print a quick-response code on paper that can function as an antenna when the particles are photonically sintered to create continuous layers of silver.  It was found that photonic sintering does have the ability to sinter silver nanoparticle ink on paper, and the sintered particles had conductivity ranging from .527-1.5 /Ωm, which is sufficient for antenna applications. However, the ink seems to have poor adhesion to the paper substrate and further study will be needed to determine a solution to this.

Project Report is not yet available.
David Smith
Bio:
---
2014 B.S. Biochemistry, South Dakota State University
Project Info:
---
TITLE:
Authentication of Pharmaceuticals using the Rotation of Plane Polarized Light


ABSTRACT:

Counterfeit pharmaceuticals have become a growing problem in the pharmaceutical industry, resulting in dire consequences. Counterfeit pharmaceuticals can contain incorrect doses of the active ingredient, no active ingredients, or expired medication. Because people often rely on their medications for serious health issues, counterfeits can be harmful, and at times deadly. Currently, the only form of authentication used is overt printing on pill packaging, or bottles, which is relatively easy to duplicate. The use of inks containing "invisible" chiral molecules would allow covert security printing directly on pills. Chiral molecules, which have the ability to rotate plane polarized light, could be detected by the end user to verify the authenticity of drugs. Security inks containing an L-isoleucine derivative with two chiral centers were devised and the initial synthetic steps were performed. The first step of the L-isoleucine derivative synthesis was completed to produce the Di-tert-butyl dicarbonate and methyl ester protected L-isoleucine with a 61% yield. Further synthesis will be carried out to produce the final L-isoleucine derivative.

Project Report is not yet available.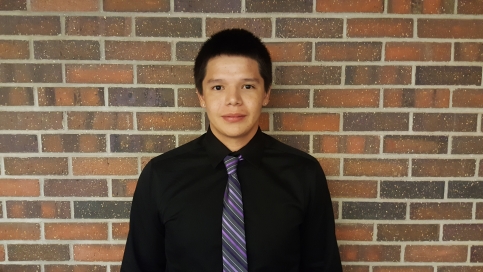 Shane Star
Bio:
---
2018 B.S. South Dakota School of Mines and Technology, Civil Engineering
Project Info:
---
TITLE:
Scientific Analysis of a Lakota Artifact


ABSTRACT:

The authentication of Native American art and artifacts is a rapidly emerging topic of local and national significance. The research presented here involves forensic analysis and authentication of a Native American hide scraper on loan from the Heritage Center at Red Cloud Indian School. The scraper is believed to be from the late 1800s. The artifact was analyzed using several scientific tools including laser induced breakdown spectroscopy, X-ray fluorescence, micro X-ray computed tomography, and DNA analysis. Cultural and geographical analysis was also conducted in order to help put the scientific analysis into context. In addition to the above research, security printing was investigated as a means to prevent counterfeiting. Covert ink was formulated and proof of concept application was demonstrated on Lakota art.
The analyses indicate that the creation of the hide scraper occurred in the 1800s. Most likely in the late 1800s due to its acuteness. The hide scraper's materialistic makeup is consistent with the resources the Lakota Sioux possessed at that time. However, none of the data can conclude the exact age of the hide scraper. DNA analysis was not conducted. The fluorescein inks formulated did not stick onto the common substrates of Lakota artwork, quills and beads. Polymers may have to be introduced to the ink formulas as a means to bind the fluorescein onto the substrates.

Project Report is not yet available.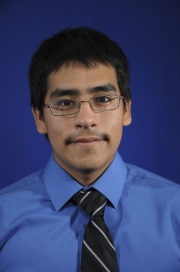 Domingo Tamayo
Bio:
---
B.S. degree candidate (Physics), South Dakota School of Mines and Technology
Project Info:
---
TITLE:
Authentication of Native American (i.e. Lakota) Artifacts from Circa 1890, 1900


ABSTRACT:

Counterfeit Lakota artifacts pose a significant problem to professional artists, museum curators, collectors, and they misrepresent the Lakota culture and history. Identifying the counterfeit Lakota artifacts is to be determined with a firm understanding of the cultural context, historical referencing and a physical analysis aided by modern analytical tools. The cultural context included interviews with cultural authorities and a developed collection of relevant literature. Historical referencing accounted for period materials of the items and to help parameterize destructive testing. Lastly, the physical analytic tools used were the Visual Spectral Comparator 6000/HS (VSC), an X-Ray Fluorescence (XRF) and a Micro-Computed Tomography (Micro-CT). The Heritage Center at Red Cloud Indian School (HCRCIS) provided a pair of moccasins allegedly retrieved from the Wounded Knee Massacre and a pouch previously attached to an old Lakota bustle. Though this REU, the moccasins were identified to be plausibly retrieved from the Wounded Knee Massacre and the pouch was identified non-ceremonial in nature though still 100+ years old. The analytic tools identified that there are copper rings and organic material inside the pouch and the moccasins have an understandable amount of lead in the beads with arsenic spotting the item. This work provided a database specific to the Lakota people detailing their culture and history as well as demonstrating how modern technology can aid cultural preservation.

Project Report is not yet available.